Dr.-Ing. Dr. rer. nat. Ulrich Rührmair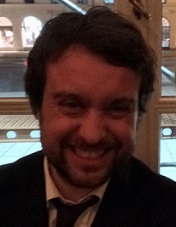 Chair for Cryptography
Horst Görtz Institute for IT-Security
Ruhr University Bochum
Universitätsstr. 150
D-44801 Bochum

Container Süd-R53
Tel.: +49 (0)234 32 28214
Fax.: +49 (0)234 32 14719
E-Mail: ulrich.ruehrmair(at)rub.de

Visiting address: Office 4.22, Wasserstraße 221, 44801 Bochum
Research Interests
My research interests are physical unclonable functions (PUFs), physical cryptography, disorder-based security, hardware security, and complexity theory at large.

Professional Activities
Invited Talks and Keynote Addresses (Selection)
On the Formal Foundations of Physical Unclonable Functions. Schloss Dagstuhl, Germany, June 19, 2008. 

Physical Cryptography, Or: How to Realize Cryptography and Security by Random, Disordered, and Unclonable Physical Structures. 37th International Conference on Current Trends in Theory and Practice of Computer Science (SOFSEM 2011), Slovakia, January 23, 2011.

Cryptographic Protocols based on Physical Unclonable Functions and Related Structures.  RISC Seminar, CWI Amsterdam, Netherlands, November 19, 2012.

Secure Protocols based on Strong PUFs and Related Structures TU Berlin, Germany, June 20, 2013. 

On the Use of Disordered, Unclonable Physical Structures in Cryptography and Security Faculty Colloquium. University of Passau, Germany, June 17, 2014.

Virtual Proofs of Reality and Their Physical Implementation. ETH Zürich, Switzerland, April 5, 2016.

Virtual Proofs of Reality and Their Physical Implementation. Schloss Dagstuhl, Germany, May 17, 2016.

Keynote Address:  Physical Disorder for Hardware Security.  IEEE IVSW, Spain, July 5, 2016.

PUFs and Beyond. Invited Seminar Talk, Harvard University, USA, November 29, 2016.

Exploiting Physical Disorder for IoT-Security. Yale Computer and Engineering Seminars Series, Yale University, USA, December 2, 2016.

Reviewer (Selection)
NATURE COMMUNICATIONS

NATURE NANOTECHNOLOGY

CRYPTO

EUROCRYPT

DATE

AFRICACRYPT

IEEE Transactions on Information Forensics and Security

IEEE Transactions on Computers

IEEE Transactions on Circuits and Systems I

IEEE Transactions on Very Large Scale Integration Systems

IEEE Journal on Emerging and Selected Topics in Circuits and Systems

ACM Transactions on Embedded Computing Systems

IEEE Transactions on Computer-Aided Design of Integrated Circuits and Systems

Journal of Applied Physics

Program Committee Memberships
HOST 2011

HOST 2012

HOST 2015

CHES 2015

HOST 2016

AsianHOST 2016

IEEE S&P ("Oakland") 2016

HOST 2017

AsianHOST 2017

WISA 2017

HASP 2017

ASHES 2017 (PC Chair)

IEEE S&P ("Oakland") 2017

IEEE S&P ("Oakland") 2018

Others
Special Session Organizer at DATE 2014, "How secure are PUFs really?  On the reach and limits of recent PUF attacks".   Contributors/speakers:  Wayne Burleson, Marten van Dijk, Daniel E. Holcomb, Farinaz Koushanfar, Ulrich Rührmair, Jean-Pierre Seifert.

Session Chair, "Physically Unclonable Functions and Hardware Trojans", CHES 2015.

Guest Editor, "Emerging Attacks and Solutions for Secure Hardware in the Internet of Things", IEEE Transactions on Dependable and Secure Computing (TDSC).

Founder and Co-Organizer, Workshop on Attacks and Solutions in Hardware Security (ASHES 2017), Satellite Workshop at CCS 2017.

Publications
Journals
Conferences
Invited Book Chapters
Eprints